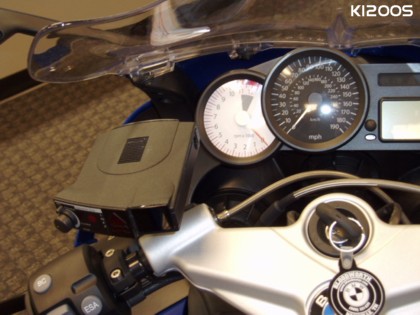 I've out done myself this time. The Pirates' Lair Stealth Radar Detector Mount is a thing of beauty and simplicity and yes.. this is yet another Pirates' Lair exclusive! and yes.. it's made here in the USA.

The PL Stealth radar detector mount is my first in-house design project for the K1200S/R and it has turned out wonderfully. Supremely sleek and functional, it looks factory on any bike. The powder coated black, all aluminum, lightweight mount mounts over the K1300S or K1200S clutch reservoir cap in under 1 minute via 2 stainless-steel set-screws offering a perfect, level platform for virtually any radar detector on the market including your V1, Passport, or Bel.
Once installed, your detector will be out of the wind and weather, yet still perfectly visible to the pilot without blocking any gauges. Of course, as actually hearing a radar detector while on a motorcycle is virtually impossible at speed unless you have it hardwired to helmet speakers, we also recommend the HARD.
and lastly.. Contrary to urban myth.. your radar detector does NOT have to be hanging out in the wind to get perfect reception. You only lose about 5 % of sensitivity when shooting directly through fiberglass, carbon fiber, or plastic. Velcro included. Fits the BMW K1300S, K1200S, K1200R Sport., K1200R, K1300R, R1200R, -2014 R1200GS, and R1200ST.
Note: Will NOT fit any reservoir that is NOT round. Our mount is meant to go over a round reservoir cap only. Will NOT fit the 2015 water-cooled R12000GS.