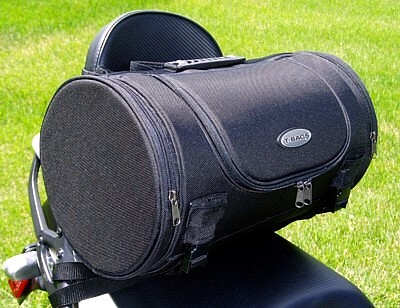 You've got your new Stealth, Sargent, or Corbin Backrest installed ..finally you and your significant other can do some traveling together in comfort and now you need more luggage room... what to do?. Check out these 2 options offered exclusively to Pirates' Lair from world renowned cycle luggage maker, CDL Enterprises, LTD. Either of these offerings will fit every version of our world famous Stealth Backrests... K1200RS, R1200GS, R1200GSW, K1200GT, R1150R, ST1300, FJR1300, Concours 1400, Versys 1000, or the R1200RS.

The Saddle Roll Bag and any of our Stealth backrests are a match made in motorcycling heaven. Very sleek and great for a day's ride or a welcome addition to your system case bags. Not too big... not too small and compliments the curves of any bike. Capacity .54 cu ft. The Roll bag (pic at left), with it's plastic bottom insert for support comes standard with a rain liner. The sleeve in the back slides down over the backrest. If riding solo, flip it around and have it sit in the passenger seat.
Made of tough 1680d ballistic nylon and insulated with high density closed cell foam
Rigid design maintains its shape when empty
Two large side pockets provide extra storage for cell phones, maps and other loose items
Nylon bungee attachment loops for additional cargo tie-down
Quick-release security straps for added stability
Dimensions: 16.5"x9" Capacity: 0.54 cu. ft.