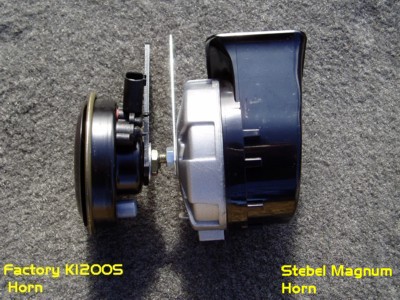 The Stebel Magnum Horn could save your life! A bold statement but true. Besides additional lighting, the single most important thing you can do to your motorcycle is add LOUD horns. Are you sick and tired of some cage trying to take your lane while you happen to be using it? Don't you hate it when you hit that cheesy, Spanish made horn on your $17,000 motorcycle and the sound coming out seems more appropriate for a Vespa instead of the road god that you are? Yes.. we've all been there. Don't get mad... get LOUD with this upgrade electromagnetic horn.
Unlike dual Fiamms or large air horns, the 136 dB Stebel Magnum is designed for bikes where space is at a premium like the BMW K1200R. FYI.. most factory horns are 110 db. The Magnum fits in place of the OEM horn and is connected in minutes using basic wiring skills. While the Stebel is louder than the factory horn, it is not as loud as dual horns or an air horn, nowhere close..however the install is 100% easier than these other type horns and it takes up 1/2 the space. Wiring is as easy as removing the 2 wires from your factory horn and connecting them via some minor splicing to the Magnum. Not quite plug-n-play, but chimp easy.
The Stebel Magnum is small enough at 85mm x 90mm x 60mm to fit onto your K1200S, K1200R, R1200GS, R1200RT, R1200ST, and virtually any modern motorcycle. Also includes: generic fitment bracket.The one we sell is the TM80/1 Low Tone.