Witness the Marc Parnes BMW Wheel Balance Kit .. Some of us choose to mount and balance our own tires.. Why? Because we hate to pay the local extortionist.. er.. dealer $60 a pop to mount, scratch, and balance our tires when we can mount, scratch, and balance our own! The kits we sell come complete with axle, bearing blocks, cones, and/ or adapters for balancing both wheels. User supplies two support stands of equal heights to support the balancer and wheel. Any milk crates, cylinder blocks, or jack-stands work perfectly.
The K1300S / K1300R / K1200R / K1200S / R1200GS / ST/ RT Wheel Balance Kit comes complete with axle, bearing blocks, and (2) cones ..two universal/one special 137mm cone for the BMW rear drive side.(pic below right) Weights included. This balance kit also fits the R1200ST, RT, K1600GT & GTL..
The 2013 and later water cooled R1200GSW and R1200RT with cast wheels will come with a special adapter for both the cast and spoked wheels. Our BMW S1000RR kit also fits the 2015+ S1000XR, S1000R, and FJR1300. Note: Orders will be drop shipped directly from the manufacturer.
Note: We will need to know model and year of bike at time of order. If you have a GS we'll need to know whether you have cast or spoke wheels.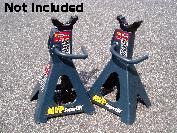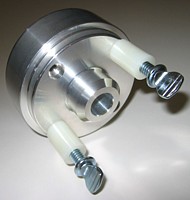 BMW R1200GS / ST / RT / S / R Adaptor