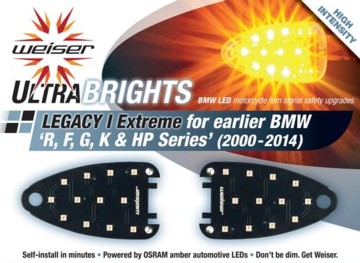 Weiser Ultrabrights Legacy I Extreme .. For earlier BMW bikes (2000 to 2014)
UltraBrights Legacy I Extreme: The ultimate LED turn signal solution. Weiser Ultrabrights are simply the brightest, most attractive range of turn signal upgrades you can buy. The Legacy I Extreme fits BMW's with the "slightly rounded" oem blinker housings mainly found on bikes manufactured from 2000 to 2014. Install is truly plug-n-play. Install Guide.. Basically, pop old reflectors out of housing, plug the circuit board into the existing wiring, and put the lens cover back on. Done. Sold in pairs only. Full 2 year warranty. We will need to know year and model BMW before shipping.
Note: The 2 in 1 Driving Lights version burns white (not amber) 24/7 and the blinker burns amber. The 2 in 1 Brake Lights verrsion burns red on the tail light and amber on the blinkers.
Applications: R1200GS (up to 2012), R1200GS Adventure (up to 2012), R1200R and Sport (up to 2014), R1200S rear only (2005 to 2012), R1200ST rear only (up to 2012), F650GS (2008 to 2012), F800GS (up to 2012), F800R (up to 2012), F800S (up to 2012), F800ST (up to 2012), G650 Xcountry (2006 to 2009), G650 Xmoto (2006 to 2009), G650 Xchallenge (2006 to 2009), K1200R (up to 2008), K1200R Sport (up to 2008), K1200S rear only (up to 2008), K1300S rear only (2009 and up), HP2 Megamoto (up to 2008), HP2 Enduro (up to 2008), & HP2 Sport (up to 2008.)