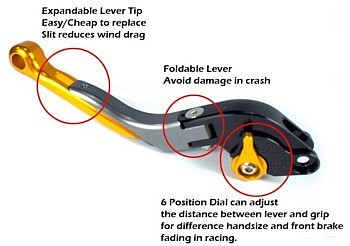 Colors Available for End Levers & Adjustment Knob: Mix and Match
Silver, Gold, Blue , Black , Red, Titanium-look (End Levers Only)

The MotoZen Lever Kits we sell are sold as a complete pair.. brake and shift lever and are considered a special order item. Each kit is hand assembled per customers color specifications. Install is a simple bolt-on affair. Expect about 15-20 minutes. Getting your ergo's right has never been easier. We have these drop shipped directly from the US importer, by-passing us for faster delivery. and yes... replacement levers are readily available should you drop the bike.
The standard BMW kits listed below will fit every model year K1600GTL, K1600GT, K1300S, K1300GT, K1200S, K1200R, K1200R Sport, R1200GS, R1200GS Adventure, R1200R, R1200S, R1200ST, and HP2 Enduro. The S1000RR Kit will fit ONLY the 2010-2014 BMW S1000RR. We do NOT have levers yet for the 2015-2016 RR.

Note: We currently do NOT have a MotoZen kit to fit the 2006-08 K1200GT or the 2014+ R1200GSW. However, I think we can get Synto levers for them. Click Here.. or email me and I'll check..

Lastly.. I can get these for other make bikes via special order.. Ducati, Aprilia, Kawasaki, Honda,Yam, Suzuki, Guzzi, Triumph, & KTM. Just email me with your request and I'll check on availability. Just call at 828.628.7093 EST